Frogmouth
Medium Roast
Regular price
Sale price
430.00 INR
Unit price
per
Sale
Sold out
Best brewed with

Know the Coffee
The Frogmouth is a Medium Roast, washed Arabica of the Chandragiri varietal that has been carefully pulped to ensure that each bean is completely damage free. The result is a complex, layered coffees with prominent flavour notes of amla, cranberry and cocoa..
Know the Grower
This interesting Arabica coffee comes from our partner farmer producer organisation, Aadhimalai in the Nilgiri Biosphere Reserve, which is a uniquely diverse and ecosystem with forests and shola grasslands side by side. The Irula and Kurumba communities have agricultural lands which are intercropped with coffee and trees like jackfruit, orange, lime, banana, forest species and pepper vines. Spices are also grown along with coffee.
Name Inspiration
Frogmouths are creatures of habit and full of quirk but not so easy to see because they emerge after dark. Most birds carefully select their roost spots and then use the same locations with painstaking predictability. Their plumage so closely resembles dried leaves that the birds appears practically frozen into their backdrop, becoming practically invisible even during broad daylight.

Their most characteristic and fantastical feature is their frog-like gape which they use to catch grasshoppers, cicadas and other insects as well as in unique threat displays.

Not much is known about Frogmouths all over the world, including in the Indian Subcontinent. We do not know their conservation status, although we might assume that degradation and disturbance of evergreen forests would impact their distribution.

Finally, in response to Google's most popularly searched question - no Frogmouths are not owls!

Coffee grind size guide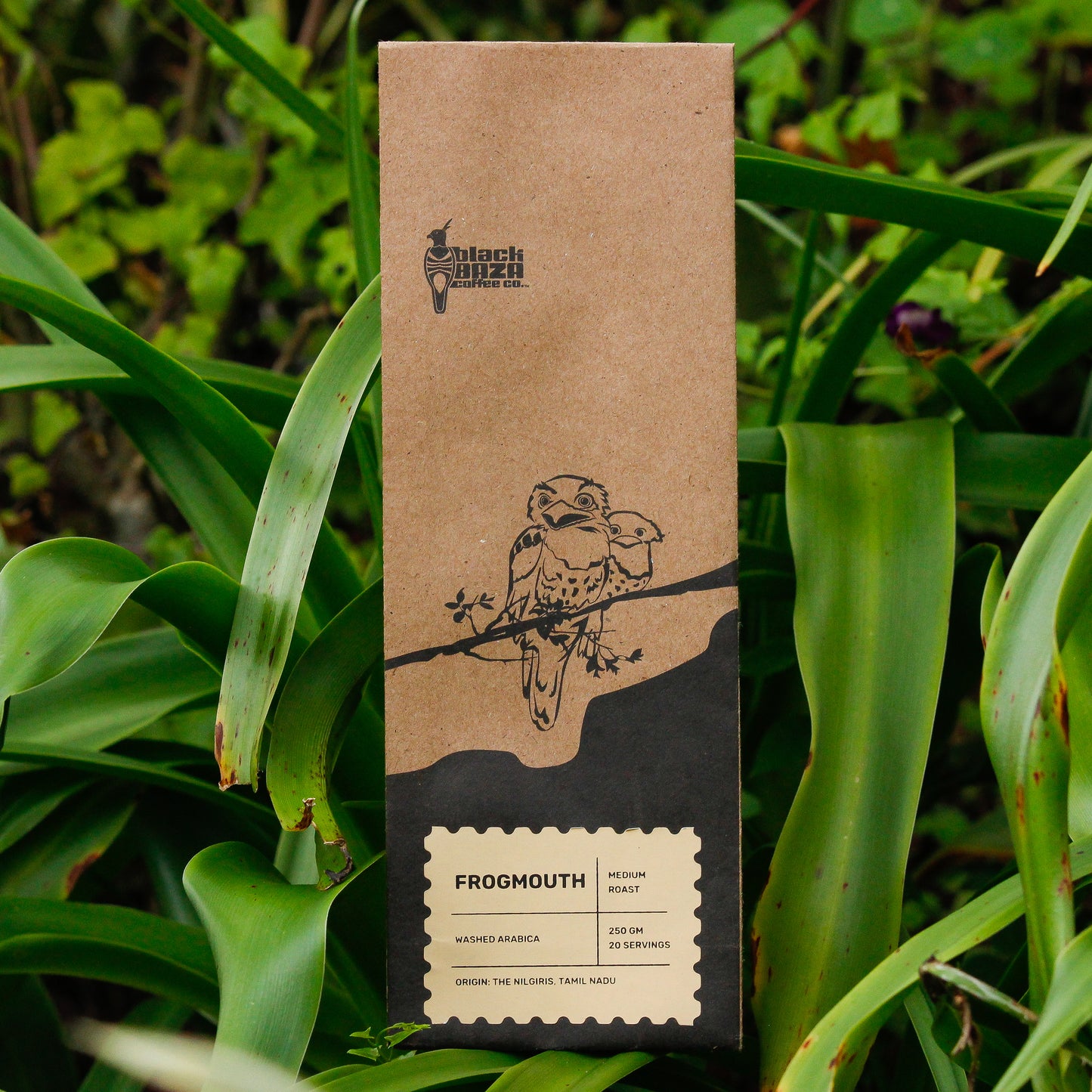 See our laboratory tests for heavy metals and pesticide residues
Know More