Flavours of Festivity Gift Box
Sustainable Gifting
Regular price
Sale price
695.00 INR
Unit price
per
Sale
Sold out
Introducing our Holiday Gift Box
This extraordinary holiday gift box is the result of a special collaboration between Black Baza and Last Forest. With a shared commitment to sustainability and quality, we have come together to create a unique gifting experience that celebrates the rich biodiversity as well as indigenous communities of The Nilgiris.
By choosing this gift box, you are not only giving your loved ones a memorable and delicious present, but also supporting two incredible social enterprises that are driving a positive impact on the environment and local communities of The Nilgiris. It's a gift that keeps on giving, in more ways than one!
Know the Growers
Our carefully selected products celebrate the rich flavours of the Blue Mountains of the The Nilgiris, offering a unique and sustainable gifting experience. 
The Frogmouth and Galaxy Frog coffees in this gift box come from a producer collective, ஆதிமலை பழங்குடியினர் புரொடியுசர் கம்பனி லிமிடெட், who have been working with smallholder producers for the past decade. While the Frogmouth, is a high-altitude washed Arabica from The Nilgiris, the Galaxy Frog is a delicious blend of washed Arabicas from both The Nilgiris and the BR Hills. These coffees will be roasted specially for you on order, at our Roastery in Bangalore.
The Nilgiri Honey in this box has been comes from Last Forest's work with indigenous honey harvesters in The Nilgiris. This honey is usually harvested from honey cliffs and bee-nesting trees at great risk but with tremendous tradition and culture encapsuled into the activity.
The Contents
The Gift Box contains:
1. Frogmouth Coffee, Medium Roast (100g)
2. Galaxy Frog Coffee, Medium Roast (100g)
3. Flavoured Wild Honey Trio

 
(3 x 25g Bottles)
4. Coffee & Cinnamon Pebbles Beeswax Soap

 
(20g)
We would be happy to larger orders for this unique gift box, be it for a celebration or for corporate gifting. Please reach out to us at team@blackbazacoffee.com

Coffee grind size guide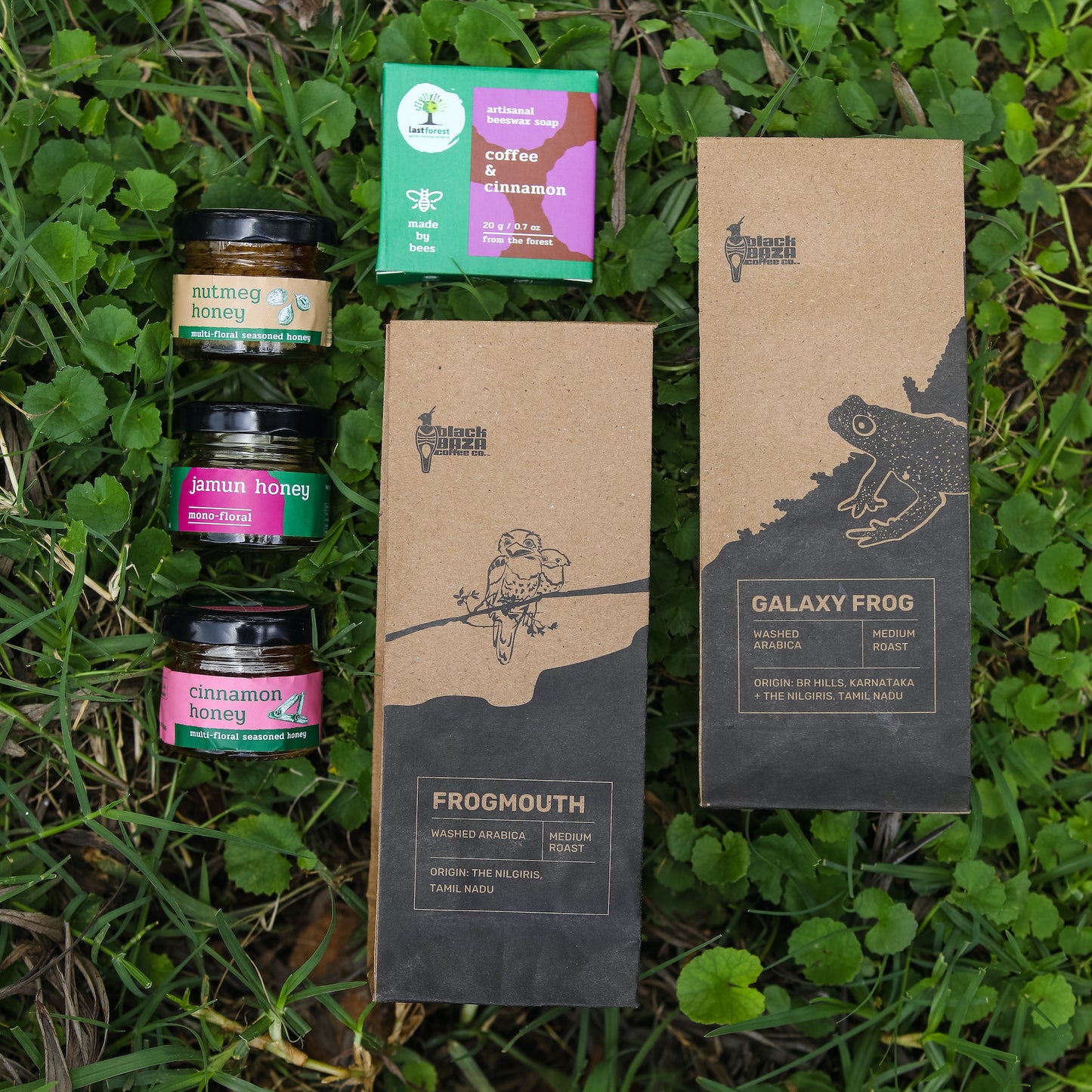 See our laboratory tests for heavy metals and pesticide residues
Know More